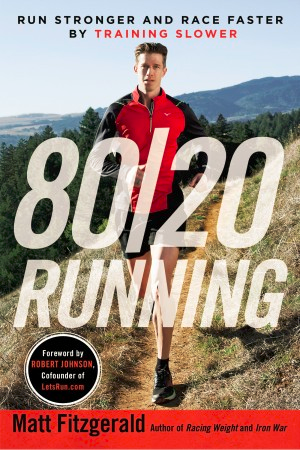 Matt Fitzgerald's written a lot of books, and a lot of them are good books. He's one of this generation's great minds when it comes to endurance training.
He is also one of the champions of 80/20 Endurance Training, the approach found by Dr. Stephen Seiler to be the most efficient mix of easy and hard training. In a nutshell, 80% of your training is done at easy intensity and 20% is done at harder intensity.
Fitzgerald's aptly titled 2014 book 80/20 Running is an extended research guide on how he and everyone determined that 80/20 training was the optimal blend of easy and tough workouts.
And as you'd expect, the book includes a set of training plans broken out by difficulty for every major racing distance, from the 5K and 10K, to the Half Marathon and the full Marathon. So I'd like to take a look at the Marathon training plans.
As usual, I'm not writing this as a review of the book… though I will freely admit that I love the book and, however dated it might be, I highly recommend you read it if you're a serious distance runner. Triathletes will get just as much from his more recent 80/20 Triathlon, which adapts the principles to training for the three-discipline endurance sport.
And I will offer this important caveat: Fitzgerald makes it clear that he believes you should take the listed workouts in his book combined with 80/20 principles and create your own training plans based on your needs. So to review this training plan is fundamentally undercut by the fact that they are merely written as templates or samples, something to follow if you just for some reason cannot or won't make a training plan of your own.
However, given the plans do mirror many of Fitzgerald's general principles regarding scheduling workout and training progression, I'll go ahead and review the marathon training plan anyway.
Do note that the training plan, not to my knowledge available in the public domain, would either way require that you have the book 80/20 Running. The workouts are listed only by title, and the finer points are outlined elsewhere in the book. So, you need the book to follow the plan.
The Nuts and Bolts:
Continue reading